NuBrilliance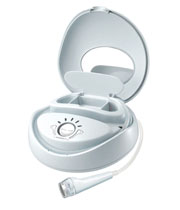 Now you can easily reduce the appearance of wrinkles, fine lines, age spots, and other signs of aging with NuBrilliance. It is a home microdermabrasion device with a dual action system.
NuBrilliance uses  crystal-free diamond exfoliation along with vacuum suction to give you  a professional quality microdermarasion that can be done in the comforts of your own home.
It works by removing dead skin cells on the surface of the skin in order to aid the natural cell regeneration process. This will improve the collagen and elastin production, resulting in younger looking skin.
The built-in vacuum of the NuBrilliance is what separates it from most other at home microdermabrasion systems. The vacuum can produce better results at stimulating the production than microdermabrasion systems that don't offer suction.
Plus the Diamond Tip gently exfoliates the outermost layer of skin using real, laser-cut diamonds. This removes old dead cells and helps promote the growth of healthy new skin cells.
Get the Flash Player to see this player.
The NuBrilliance system retails for $249.95 or 5 payments of $49.99. With this current trial offer that is available you also have the option of trying it first for 30 days risk free by paying $14.95 plus the shipping and handling cost.
As a special bonus, you'll also receive the 3-Step Prep & Recovery skin care system for free. It includes the Preparation Cleanser, Collagen Regenerator, and SPF Moisturizing Protector.