Natural Relief For Women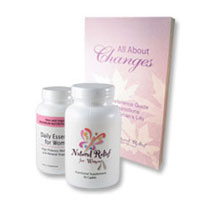 Get fast relief from hot flashes, night sweats,  and other symptoms of menopause with Natural Relief For Women. It is made with all natural herbs that are proven to help women deal with menopause.
Natural Relief provides a safe and natural alternative to prescriptions drugs or hormone treatments.  You'll get natural relief for the various menopause symptoms, including hot flashes, night sweats, insomnia and mood swings.
The formula in Natural Relief can also help with other menopause symptoms, including forgetfulness, weight gain, anxiety, lack of energy, and a loss of libido.
Natural Relief contains a Herbal Support Blend with a combination of ingredients that contains Phytoestrogens along with added vitamins and minerals.  Phytoestrogens is a natural plant hormones which have been shown to provide relief for many menopausal symptoms.
One of these ingredients used in Natural Relief For Women is Dong Quai Root. Dong Quai is an ingreident used in traditional Chinese medicine used for many purposes, including to relieve menopause conditions.
The other Phytoestorgens that make up Natural Relief's herbal blend includes Atractylodes Rhizome, Chaste Tree Berry, China Root, Chinese Burpleurum Root, Chinese Licorice Root, Codonopsis Root, Ginger Root, Lovage Root, Rehmannia Root, White Peony Root, Black Cohosh and Horse Chesnut Seed.
Get the Flash Player to see this player.
With this current offer you can try a 90 supply of Natural Relief along with the complete Natural Relief Welcome Kit risk-free. You just have to pay the shipping and handling cost of $5.95.
It includes a 90 day supply of Natural Relief,  a 90 day supply of Daily Essentials for Women Vitamins, a 90 day supply of Natural Energizer, the "All About Changes" Reference Guide & Recipe Book, and the "Quick & Natural" Recipe Guide.