Murad Environmental Shield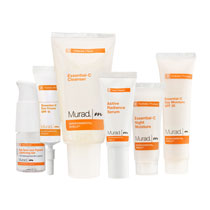 You can rediscover your skin's radiance in just 30 days with Murad Environmental Shield. It can help reverse the damage caused by environmental aging.
Environmental Shield was specially created by world renowned dermatologist, Dr. Howard Murad, to quickly and naturally undo the signs of environmental aging.
It can help erase the suns of age spots, sun spots, even out blotchy skin tone, improve skin radiance, protect against future damage, and more.
In today's world, our skin is constantly being exposed to toxins, free radicals and other harmful compounds which damages it. Murad Environmental Shield is formulated with the right amount of correction and protection to help undo the damage and protect the skin.
The products in the sytem are formulated with some of the best ingredients that nature and science has to offer:
Essenstial-C Cleanser. Contains antioxidants, Vitamins A, C and E to neutralize free radicals and other environmental aggressors. It provide a well-hydrated foundation for application of the treatment product.
Active Radiance Serum. Clinically proven to protect and repair the skin with a new Vitamin C technology that delivers up to 50 times the free radical neutralizing power of prior generations. The unique formula provides superior protection against environmental damage all day long.
Essential-C Day Moisture SPF 30. Provides powerful protection against environmental damage. Also includes the next generation Vitamin C technology and a patented Skin Repair System that improves skin radiance, firmness and elasticity.
Get the Flash Player to see this player.
You can order a 30-day supply of the Murad Environmental Shield Introductory Kit for just $39.95 plus the cost of shipping. Plus with your order you will also receive a free set of bonus gifts.
It includes the Age Spot and Pigment Lightening Gel, Essential-C Night Moisture, and the Essential-C Eye Cream with SPF 15. Everything combined is valued at $125.