Forever Back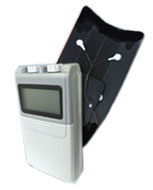 The Forever Back Pain Relief System is the ultimate electronic massage device for lower back pain. 
It is discreet, easy to use, and delivers targeted relief. You can personalize the settings to fit your needs.
The T.E.N.S. technology used in Forever Back effectively alleviates pain associated with sore and aching muscles in the lower back area.
T.E.N.S. muscle stimulator technology works by delivering a targeted massage therapy when and where your muscles need it the most.
This is the same proven method that is used by chiropractors and physical therapists across the country for treating back pain.
Forever Back is a safe and drug-free way to eliminate back pain. It has been FDA cleared for the treatment of back pain.
Get the Flash Player to see this player.
The Forever Back system comes with a Dual Channel Stimulator, 2 Connector Cables, 4 Self Adhesive Pads, and an Operation Manual. It is only $98.95 and comes with free shipping.