Finishing Touch Flawless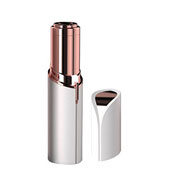 Experience a new standard in hair removal  from the world's number one brand in hair removal with the Finishing Touch Flawless. It instantly and painlessly removes hair with no redness or irritation.
Finishing Touch Flawless is compact and looks like a fancy lipstick but inside is some of the finest German engineered technology for hair removal. It features an 18-karat gold plated head that is hypoallergenic.
The Finishing Touch Flawless is dermatologist recommended. It is completely gentle and works well on all skin types and skin tones.
Use it to remove unwanted hair from your lips, chin, cheeks, arms, and other problem areas. You can use it as often as needed, including daily.
Finishing Touch Flawless provides one of the fastest, easiest, and most pain-free solution for  hair removal. With the built-in light, you can easily see and remove every last bit of unwanted hair.
The Finishing Touch Flawless is discrete and portable. It keeps you prepared when hair pops out of nowhere. Since it looks just like a lipstick, you can put it in your purse and take it with you on the go.
You can order t he Finishing Touch Flawless for $19.99 plus the cost of shipping and handling. You can add a second unit to your order without any additional shipping cost.