Finishing Touch Diamond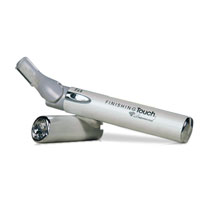 The Finishing Touch Diamond is the fast, easy to use, and affordable instant hair removal solution. Plus it is absolutely pain free.
It is a lighted hair remover with a set of micro-oscillating blades for instant hair removal. The Finishing Touch Diamond will remove unwanted hair without pulling on your skin or cause discomfort.
At the same time the blades are powerful enough to remove the thickest body hair. It'll remove hairs and make your skin smooth to the touch.
So forget about manually shaving with razors, waxing, or plucking, which can be slow and painful. You can also avoid expensive laser hair removal treatments. The Finishing Touch Diamond lets you remove unwanted hair gently and quickly.
Just turn on the Finishing Touch Diamond and using the light as an indicator, glide it over the area where you want hair removed. Use to remove unwanted hairs on your face, chins, eyebrows, arms, knees, legs and more.
The Finishing Touch Diamond is extremely compact and discreet. It is small enough to store anymore and you can easily fit it inside your purse and take it with you.
Get the Flash Player to see this player.
The Finishing Touch Diamond sells for $14.99 plus the cost of shipping and handling. Plus as a special bonus you'll also receive a free Eyebrow Shaper Attachment and a Lighted Mirror with 5X Magnification with your order. Just pay the extra shipping and handling.
The Eyebrow Shaper Attachment connects to the top of the Finishing Touch Diamond and lets you perfectly shape your eyebrows. The Lighted Mirror is perfect for use with on the go touch ups with the Finishing Touch Diamond.