Thigh Glider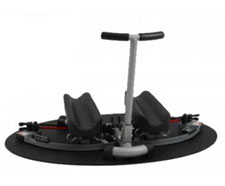 With Thigh Glider you'll be gliding your thighs away and getting your body into shape.
It delivers a fast workout with fast results. You can workout your thighs, buns and upper body in only a few minutes a day.
This is perfect for busy women that are always on the go or others that have trouble fitting regular gym visits into their busy schedule.
The Thigh Glider utilizes the latest technologies to combine maximum efficiency, ease of use, and outstanding results.
It is able to deliver gym quality results in just a few minutes a day. You will have firmer and sexier thighs that you would be proud of showing off.
Not only is the Thigh Glider easy to use but it is also convenient to to carry and store. It folds up allowing you to place it under your bed or closet.
Get the Flash Player to see this player.
The Thigh Glider system comes with the Thigh Glider Machine, 2 Adjustable Leg Wedges, 2 Resistance Bands, Owners Manual, Exercise Guide and Nutrition Guide.
It retails for 4 payments of $49.95 but right you try it first for 30 days risk free trial with this current offer. You just have to pay $14.95 plus shipping and handling.
You'll also receive 3 bonus gifts that includes the Excersie Band for upperbody toning, Workout DVDs, and LipoBC weight loss supplements.