Core Rhythms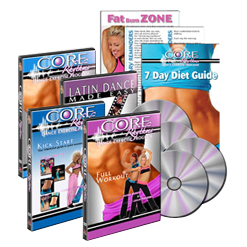 Forget about doing back breaking sit-ups and endless crunches on the floor. Now you can dance your way to a totally fit body with Core Rhythms.
Core Rhythms is a revolutionary weight loss exercise program that uses sexy Latin Dance moves to get you into shape.
You'll be raising your heart rate, toning and tightening your entire core at the same time while you dance.
The fun Core Rhythms moves will give you a compelte 360° total workout to the core while being swept away by the fun of dance.
Core Rhythms will work out your upper abs, lower abs, the obliques, and your back.
This program was developed by World Champion Latin Dancers and fitness experts,Janna Kunitz and Julia Powers.
The complete Core Rhythms package includes:
Kick Start DVD
Full Workout DVD
Quick Workout DVD
Lower Body Sculpt DVD
Latin Cardio Jam DVD
Latin Dance Made Easy DVD
Secret to Sexy Abs DVD
Bonus! Abs in A Hurry DVD
The Dancer's Diet Guide
Success Tracker
Tape Measurer
Get the Flash Player to see this player.
With this current special offer you can get 75% off the regular price and purchase the entire Core Rhythms series for just 3 easy payments of $19.95 plus shipping and handling.
Or you can make 1 payment of $59.85 and get a free upgrade to priority processing.
Update: This offer has expired