Royal Heirloom Ring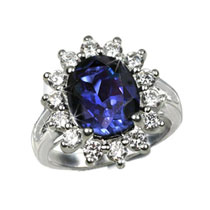 Celebrate and be part of the engagement and royal wedding between Prince William and Kate Middleton with the Royal Heirloom Ring.
Kate"s story is a modern day fairytale where an everyday girl meets her prince and will eventually become queen of a country.
The Royal Heirloom Ring is a limited edition replica of the ring betrothed to Kate Middleton by Prince William.
It is the same ring given to Princess Diana by Prince Charles almost 30 years ago today. The ring is one of the few mementos of his mother that Prince William has keep after she passed away.
A replica of this timeless heirloom is now available thanks to the joint efforts of the British Historic Society and Sterlington Collections. So now you too can be a part of the most anticipated wedding of the century.
This replica Royal Heirloom Ring has a simulated Ceylon sapphire equaling 5.65 carats and is layered in sterling silver. It is surrounded by a total of 8 oval brilliant diamond x4 CZs equaling 3.60 carats.
Get the Flash Player to see this player.
You can order the Royal Heirloom Ring for just $19.90 plus shipping and handling. A Certificate of Authenticity and a Blue Decorative Velveteen Ring Box is included with each ring.
Due to the Royal Heirloom Ring being a limited time offer, there is a strict limit of only one order for each household.