$50 Gold Buffalo Coin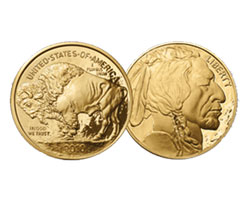 Announcing the 2012 $50 Gold Buffalo Tribute Proof, a special commemorative release from the Nation Collector's Mint.
This piece is a recreation of one the most popular gold coins ever created by the U.S. government.
The design of this amazing $50 Gold Buffalo Coin is based on the famous Buffalo nickel minted from 1913 to 1938.
The coin was wildly popular with investors and collectors, but the U.S. government had to stop production because of a shortage of specially made gold blanks.
It's no wonder the price of the last edition is going through the roof. Now, you can get your very own copy of the 2011 $50 Buffalo Gold Clad Tribute Proof in 31 mg of pure gold.
National Collector's Mint's private, non-monetary minting recreates James Earle Fraser's American Buffalo against a mirror-like background on one side. On the other is his iconic Native American Indian Head which stands out in stunning relief on the other.
Each 2012 $50 Gold Buffalo Tribute Proof comes complete with an individually numbered Certificate of Authenticity, verifying that each piece is clad in 31 mg.
Get the Flash Player to see this player.
The final issue price was to be set at $50 per proof. However during this special release period, this 24 kt pure gold clad masterpiece can be yours for only $9.95 plus the cost of shipping and handling.
This offer is not available in stores and since quantities are limited there is a strick limit of only 5 per customer. You'll also get an additional discount if you order more than 1.