Forever Lazy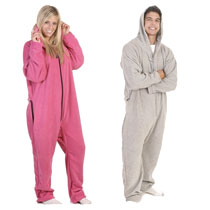 The Forever Lazy is an adult footed full-length pajama that keeps you warm and snugly from head to toe.  You can stay warm in the winter without raising your utility bills
Unlike a traditional blanket, the Forever Lazy doesn't restrict your movement and it covers up your entire body. You can still do all sort of activities while you have it on.
This includes using the remote while watching TV, playing video games, reading a book, using a laptop or computer, doing homework and much more.
Each Forever Lazy is made with a ultra soft and comfortable 100% anti-pill polar fleece.  Plus there are zippered hatches located in both the front and back, convenient for when nature calls.
The Forever Lazy also has a draw-string hoodie to keep your head warm. This is perfect when going outdoors during chilly weather.
There's currently three different stylish colors that's available for the Forever Lazy. You can choose from either Pink, Grey or Navy Blue. They come in Extra Small/Small, Medium, and Large/Extra Large sizes.
Get the Flash Player to see this player.
Each Forever Lazy retails for $29.95 plus shipping and handling. It also comes with a free matching pair of Footsies socks to keep your feet warm.
With this current buy 1 get 1 free offer, you can get a second Forever Lazy fleece and an additional pair of Footies for free. You just have to pay the additional shipping and handling.