Buxton Cell Phone Wallet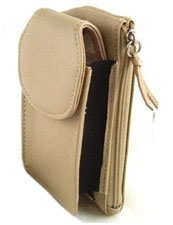 With the stylish, genuine leather Buxton Cell Phone Wallet, you can instantly organize all of your basic personal belongings.
You'll be able to find what you need quickly and easily. It is an excellent organizational tool that allows you to carry your cell phone, credit cards, cash, ID and much more.
The Cell Phone Wallet from Buxton has enough pockets and compartments to carry around all your basic needs.
The Buxton company has been producing quality leather goods ever since 1898 and their Cell Phone Wallet is made with quality genuine leather.
This functional wallet is made to last and is available in three great colors; Black, Brown and Red.
Get the Flash Player to see this player.
Order the Cell Phone Wallet today for just $9.95 plus shipping and handling and you'll get a second wallet for free. Just pay the additional shipping.
But that's not all. Each of the Butxon wallet also comes with a free bonus Gift Box and bonus Flashlight Key Chain.