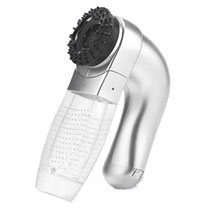 The Shed Vac helps remove shedding pet hair from your dog and cat before they get all over the place. It is clean, easy to use, and pain-free for your pets.
This professional-style grooming tool is  vacuumed powered to suck up shedding hairs from your pet. It fits right into the palm of your hands for easy maneuvering.
The Shed Vac features a specially designed head that will lift away and collect the shedding hairs from the undercoat, where the shedding hairs are located.
Read more about this product >>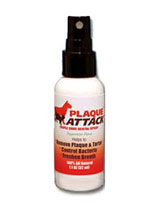 Use Plaque Attack dental spray to spray away plaque, tartar, and bad breath in your pet's mouth.
The all natural formula is veterinarian approved and works for dogs and cats of all sizes.
Plaque Attack is made with human grade ingredients that is designed to safely combine with your pet's saliva to break up bacteria, plaque, and tartar that causes bad breath and gum disease.
Read more about this product >>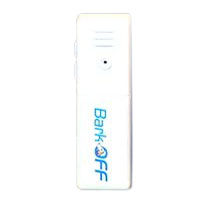 With BarkOff you can easily and humanely train your dog to stop barking anytime and anywhere you want.
It is a brand new pet trainer that uses ultrasonic technology to help you control your dog and stop them from barking.
The ultrasonic signal sent out from BarkOff is inaudible to human ears but will instantly capture your dog's attention to interrupt their barking pattern.
Read more about this product >>
The Pet Zoom Sonic Pet Trainer lets you train your dog or your cat to behave. It is a simple and easy to use solution to train your pet.
With the Sonic Pet Trainer you can safely and effectively correct your pet's bad habits. It is a much more human solution that using a bark collar.
The Sonic Pet Trainer works by sending out an ultrasonic pitch to capture your pets attention and get them to stop what they are doing.
Read more about this product >>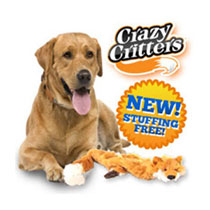 Crazy Critters are the stuffing free flat plush toy that your dog will love.  They are strong, durable and realistic looking.
Plus they have squeakers on both end, making your dog think that he or she is playing with a friend.
Since Crazy Critters are stuffing-free, they lie flat, making them easy for practically any dog to play with.
Read more about this product >>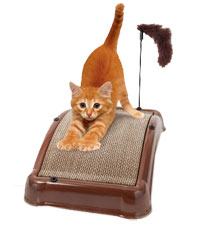 Now your cat can trim their own claws with the Emery Cat Board. It is a fun new kitty scratcher that actually grooms your cat's nails while they play.
The secret is the Emery Cat's patented honeycomb surface that works like a nail file. It gently files away sharpness giving your cat perfectly trimmed nails.
Plus it is infused with an irresistible catnip so your kitty keeps coming back for more. The special arch design is perfect for stretching and scratching.