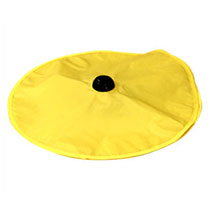 Cat's Meow is a cat toy designed to help keep your cat entertained day and night. To cats it appears that a mouse is hiding underneath, running around while its tale is sticking out.
The natural predator instincts of cats well cause them to stalk, chase, grab, and try to pounce on it, no matter what their age or breed is.
Plus your cat won't get bored because Cat's Meow uses random movements, speeds up and slows down, sweeps in different directions, and changes directions when less expected.
Read more about this product >>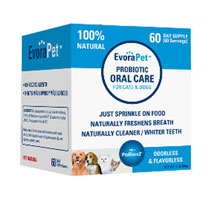 EvoraPet Oral Care is one of the very first probiotics oral care solution for dogs and cats. It'll help keep your pet's mouth clean and their teeth white.
The formula is specifically formulated in address the main oral care needs for pets. It is 100% natural and is made in the USA at a FDA certified facility.
To use EvoraPet, you simply sprinkle it on pet's food once a day. It does not have any taste or odor, so it won't change the taste of your pet's food.
Read more about this product >>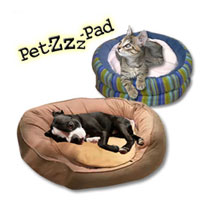 The Pet-Zzz-Pad is an American Kennel Club & Cat Fanciers Association branded electric pet bed warmer for dogs and cats. It'll help keep them warm during those cold winter months.
So now your pet can now stay warm and you won't have to raise your heating bill. The Pet-ZZZ-Pad will mold to your pets body to keep their entire body worm and comfy.
With the Pet-Zzz-Pad you won't have to worry about your pet shivering at night, sleeping on your furniture, or jumping into your bed.
Read more about this product >>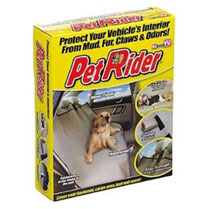 The Pet Rider Seat Cover will help protect the backseat of your car from mud, dirt, fur and odors when riding with your pet. It'll keep your upholstery clean and free of scratches.
It is perfect whether you are taking your pet to the park, the beach, the vet or anywhere else. The Pet Rider can be easily installed in just seconds with the adjustable straps and zipper.
The seat cover locks securely into place once installed but can also easily be removed when needed. You can adjust it to fit the backseat of any car, truck, van or SUV to protect your upholstery.
Read more about this product >>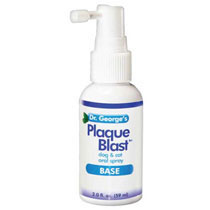 Dr George's Plaque Blast will help keep your pet's breath fresh, their teeth white and their gums healthy. It is a convenient and easy to use oral spray for dogs and cats.
Plaque Blast provides an easy way to care for your pet's teeth and gums. Just spray in your dog or cat's mouth to reduce tarter, plaque build-up and bad breath.
The formula is alcohol-free and starts working right away. When used regularly it'll help reduce and control tartar, plaque, and bacteria.
Read more about this product >>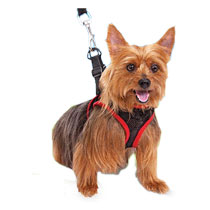 Get the world's most comfortable harness for your dog with the Comfy Control Harness. It won't choke your pet like many collars do.
Regular dog collars can put pressure on your dog's neck and lead to injury. But the Comfy Control Harness is the humane harness that is safe, lightweight , and also easily adjustable.
The unique design gives your pet maximum comfort and safety every time you take them out for a walk or a stroll.