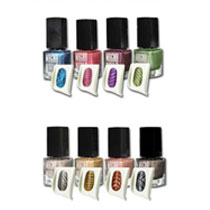 With the Magna Nails magnetic nail polish you get the same runway look and transform your nails into works of art. It gives you professional results which looks like they were done at the salon.
Except you won't have to spend a fortune. Magna Nails lets you easily create stunning metallic nail designs and patterns right from home and at just a fraction of the cost.
It uses the power of science in order to instantly create nail patterns that stand out. You can create a set of 16 different looks for your finger nails or toe nails from each Magna Nails collection.
Read more about this product >>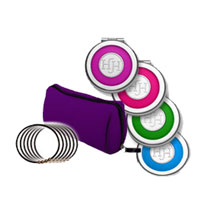 Hot Huez are temporary hair chalks that can provide your hair with eye popping colors. They'll instantly transform your hair from dull to vibrant.
Unlike highlights and dying your hair, Hot Huez is temporary and can be washed off with shampoo. So you can easily add and change colors as often as you like.
It is fast, fun, and easy to get crazy cool hair colors without any commitments. Hot Huez easily glides onto your hair and there are no dyes, no sprays, and no messes .
Read more about this product >>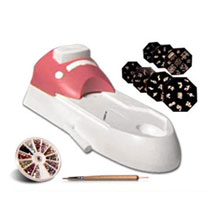 Hollywood Nails is a home nail art system that gives you salon quality nail art at just a fraction of the cost. You can take part in the latest fashion trend without spending a fortune.
By using Hollywood Nails you can quickly and easily put on a variety of different patterns and designs on your nails. There's 45 different images and designs that are fun, flirty, glamorous, and chic.
This all-in-one nail art system takes the guess work out of getting the right alignment with it's perfect placement design. Your nail art will come out centered perfectly.
Read more about this product >>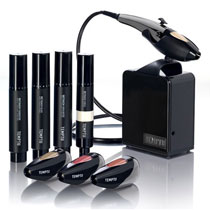 Temptu is a home airbrush makeup system that gives you a flawless look just like celebrities. It is the first airbrush makeup solution that is designed for every women and everyday home use.
Unique to Temptu is their airbrush foundation with Silksphere technology. Unlike regular makeup which can settle into creases and pores, it gently sits on top of the skin to cover skin imperfections and create a natural radiant glow.
Using Temptu is easy and convenient. In as three as just minutes, you can have a gorgeous and naturally flawless look without having to deal with brushes, sponges or other hassles that comes with traditional makeup.
Read more about this product >>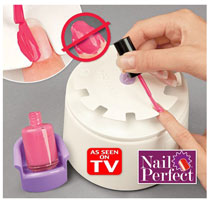 Get salon quality nails every time at home using the Nail Perfect. It lets you have a salon-perfect manicure without having to pay the salon prices.
The Nail Perfect provides you with a hand rest that makes it easy for you to apply nail polish cleanly and evenly, just like a pro.
The included Nail Disk has 9 different sized slots to provide a perfect fit for any size nail. You attach it to the Nail Perfect Base and select the slot that fits each finger the best.
Read more about this product >>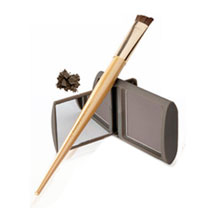 With Great Hair Day from Joan Rivers Beauty, you can make every day a great hair day. It is a fill-in powder that helps conceal fine or thinning hair and makes it look thick again.
It eliminates the shiny spots on the scalp from being exposed in order to give the illusion of having thick full hair.
Plus for those that dye their hair, Great Hair Day is also great for covering root growth in between visits to the salon.