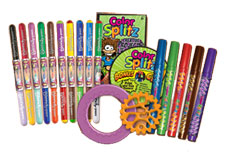 With the amazing Blendy Splitz pens, kids can make 100′s of different crazy color blends.
It is fun and easy to use. Just insert two Blendy pens into the chamber and then twist. The colors will fuse for awesome coloring.
These 2-in-1 Blendy can also be also be used as a normal marker.
Read more about this product >>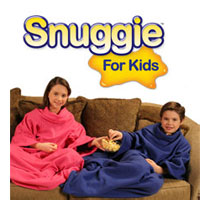 Everyone loves the original Snuggie, the blanket with sleeves. Now you can keep the whole family warm with the new Snuggie for Kids.
It is a smaller size Snuggie with smaller arms so that kids can stay warm while enjoying the things they want to do.
Snuggie for Kids is made with super soft, thick, luxurious fleece with roomy, oversized sleeves that let kids do what they want while still being totally wrapped in warmth.
Read more about this product >>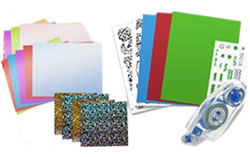 With Fun Foil Art kids can make their very own 3D foil stickers like magic. It is simple and fun.
First you just pick your favorite sticker and peel it off. Then just press on the fun foil and the color stays. It just like magic.
The possibilities are endless with Fun Foil Art. Kids can create limitless designs and unleash their creativity.
Read more about this product >>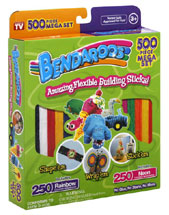 Bendaroos are the amazing flexible building sticks. Kids will be having fun for hours and unleashing their creativity at the same time.
Forget about messy crayons, markers or pens.  With Bendaroos you just bend any color and watch the fun.
You can use Bendaroos to draw, build, transform and decorate. They are safe and mess-free.
Read more about this product >>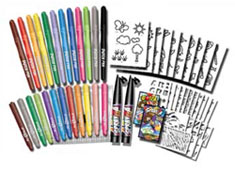 Dotza is the easy and cool way to create amazing dimensional effects.
There are lots of different ways to use a Dotza Marker Pen. You can create dimensional dots, Dotza "O's" and Dotza Beans.
These Dotza Markers are 2-in-1 and can be used as a regular marker as well.