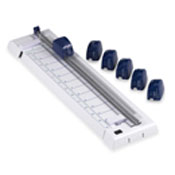 The Craft Lite Cutter gives you a perfect cut every time, making it great for scrapbooks, photo albums, greeting cards, and artwork.
It is the first sliding trimmer with a built-in light that allows you to see where you're cutting. Now you don't have to worry about making mistakes.
There is even a fold down guide to hold your paper in place and a swing out ruler to guarantee a perfect cut in any direction.
Read more about this product >>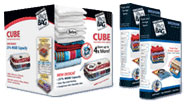 Do you have too much stuff and not enough space? Then Space Bag storage packs is what you need.
You can easily triple your storage space with these airtight, waterproof, and reusable storage bags.
Space Bags are convient and easy to use. You first pack the times into the Space Bag. Next you seal the air tight zipper. Then take any vacuum with a hose and vacuum out the air.
Read more about this product >>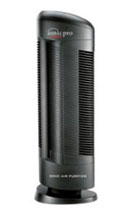 Protect your family with the Ionic Pro Turbo air purifier that is revolutionizing the air purification industry by removing the airborne particles that make you sick.
It is the only silent ionic air purifier with triple action technology. This makes up to 3 times more effective than the competition at half the price.
The Ionic Pro Turbo has a patent pending germicidal chamber that kills germs and bacteria and a unique Oxygen Plus filter that turns smog and ozone into pure oxygen.
Read more about this product >>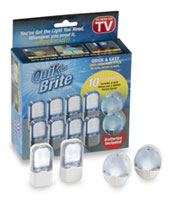 With Quik Brites, you've got the light you need, wherever you need it, automatically.
They are quick and easy to install. No nails, screws or bolts are necessary for installation.
All you have to do is just peel and place the Quik Brite where you need it.
Read more about this product >>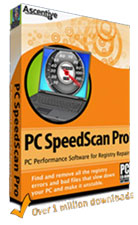 Is your computer running slow and sluggish. Experiencing crashes and errors? FinallyFast.com can get your computer back to peak performance.
It is the feature site of Ascentive Software, which has been making software that solves everyday PC problems for years.
Finally Fast.com will search for over thousands of errors on your computer and instantly fix them in order to your PC back to high performance.
Read more about this product >>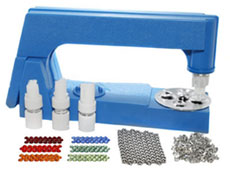 The orginal Bedazzler is the amazing rhinestone and stud setter. It is easy, fun and fabulous to use.
Even if you've never threaded a needle, you'll be BeDazzling in minutes with the Bedazzler. Simply snap, push and pop.
It is perfect for small detailed projects. Bedazzle your jeans, shoes, belt, hair accessories, purses, shirt, scrapbooks and more.