Smooth Away is the easy, safe, and painless hair removal system that lets you smooth away unwanted hair.  Say goodbye to harsh chemicals, plucking, shaving, waxing, ripping, and other inconveniences of removing unwanted hair.
It is one of the fastest selling, and  most popular women's product in Europe from a good reason. The Smooth Away pads are covered that is coverd with superfine crystals. These crystals help buff away unwanted hair, leaving your skin feeling soft and incredibly smooth.
Read more about this product >>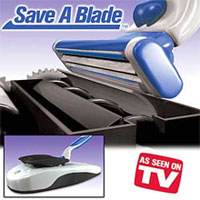 You can save a bundle on razor blades with the ingenious Save a Blade automatic razor sharpener. Get up to 200 shaves from just a single blade!
It is convenient, easy to use and will have your razor blade sharp like new in just seconds. Just slide in the razor, press the button, and in a few seconds it's done.
Now you can say goodbye to having to spend hundreds every year on razors.
Read more about this product >>