Revitalizer 2000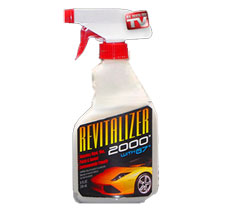 Revitalizer 2000 with G7 can help restore that showroom shine to any car. It is the environmentally friendly solution to make your car look new again.
No water is needed with the Revitalizer 2000. All you do is spray it on and then wipe it off. Your can revitalize your whole car in about just 15 minutes.
Revitalizer 2000 lifts the dirt out of the pores of your car will the G7 formula fills them in to make your car shine and protects it.
The formula will work on chrome, fiberglass, plastic, vinyl, leather, wood, moldings, the dashboard, mirrors and more.
Plus it enhances and seals the paint in order to create a protective shield that is repellent to acid, spray paint, and even fire.
Get the Flash Player to see this player.
You can order a super-sized bottle of Revitalizer 2000 for just $19.95 plus the cost of shipping and handling. As a bonus you'll receive a bottle of FOG B GONE as bonus.
But there's more because you can also get 2 Free Super Shammys and the Windshield Genie with your order. You just have to pay for the extra shipping.