VistaPrint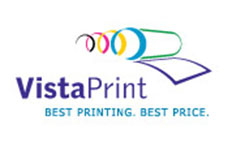 VistaPrint is the leading online design and print solution. It delivers the best prices for all your different printing needs.
They deliver high quality graphic design services and customized printed products to small businesses and consumers around the world.
Over 9 million people every year use VistaPrint as their source for affordable and quality priting.
With VistaPrint everyone can afford the quality of professional printing even if it is for just a small volume of prints.
They do business cards, letterheads, holiday cards, party invitations, stickers, pens, rubber stamps, t-shirts, calendars, posters and a lot more.
Get the Flash Player to see this player.
VistaPrint is so sure you'll like their service their currently offering 250 free business cards to new customer. These are full-color cards printed on durable, premium grade 80-lb. card stock. All you have to do is pay the shipping cost.
Desiging and placing your order is easy. You use one of the numerous custom templates available form VistaPrint, use your own design, or have VistaPrint  create a customized design for you.